www.punemirror.com | April 24, 2021
The Indian Community Cookbook Project is a digital archive created and launched by three city college students
---
The Indian Community Cookbook Project (ICCP), an archival of digitised multilingual recipe books, is a treasure trove of cooking instructions passed down through generations. The online archive boasts handwritten and printed recipes, carefully collected by Ananya Pujary, Khushi Gupta and Muskaan Pal, who are undergraduate students of FLAME University. The trio started the project as a part of their Digital Humanities course in 2019.
Since its inception, ICCP has been growing into a formidable library, where one can find recipes as varied as puttu with kadala curry from Kerala, ragi manni from Mangalore and also the Nagaland delicacy — dried axone pork. But that's not all, the students have applied cultural mapping tools to answer questions dealing with inclusion and exclusion of communities in cookbooks. For instance, they have created an interactive map of India to reflect the spatial distribution of contemporary Indian cookbooks across the country.
For Pujary, the reason to start a digital archive like ICCP was partly personal. "I realised that much of my region's recipes is passed down orally," she says. Pujary wanted to digitise such recipes for posterity. She is assured that ICCP will continue to grow. "The project will never see an end as there will be more communities to feature," adds Pujary, who is pleased to note that what started as an initiative involving family and friends has snowballed into an inclusive project encompassing many Indian communities.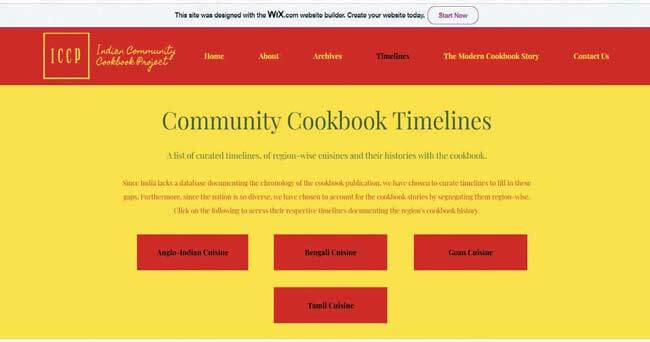 A section of the ICCP archive
ICCP is tagged as an openaccess archive of community cookbooks, which is exactly what it is. A section on Sindhi cuisine does not disappoint. You will find recipes like Sindhi chicken gravy contributed by one Pooja Vijay. She has also shared recipes of dhingri (mushroom), which is described as a delicious combination of mushroom green peas and fried potatoes, simmered in rich, thick gravy. Similarly, a section on Bangalore Muslim cuisine features dishes such as Bagara baingan.
Another interesting ICCP section is titled the Community Cookbook Timelines. In this segment, you can access information related to Anglo-Indian, Bengali, Goan and Tamil cuisines. By clicking on the Anglo-Indian section, you can indulge in a little history, as it reads, "From 1860 to the current decade, Anglo-Indian cuisine has enjoyed a well-documented history. The cookbooks have been authored primarily by settlers from the British Raj and their descendants, and are evidence of the attempt to preserve traditional British recipes alongside incorporating Indian dishes according to their taste." And in the Goan cuisine section, you will find references to books such as The Goan Cook's Guide by Pedro Dias, which was published in 1926.
For Pal, being a part of ICCP has opened her eyes to culinary cultures she was never aware of. But Pal and her friends are determined to go further with the archive by including chapters like 'food memories'. "We are also trying to humanise food by documenting people's relationship with food," says Pal. ICCP, which continues to grow, was created under the guidance of Dr Maya Dodd. You can access the Indian Community Cookbook Project online.
(Source: https://punemirror.indiatimes.com/entertainment/unwind/more-than-stories/articleshow/82201785.cms)