www.scholasticworld.com | May 21, 2021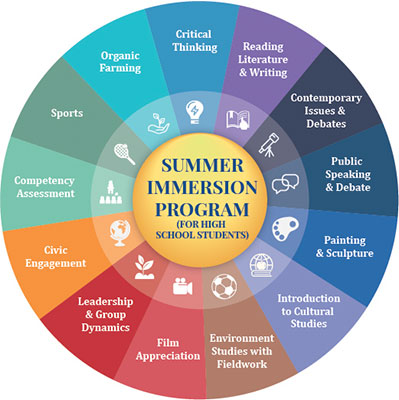 FLAME University announced a Summer Immersion Program for high school students.
The programme will be held in the beautiful campus of the University, situated in Pune, in the month of May and of 2-week duration, this program offers high school students an opportunity to experience life in a liberal education University campus while strengthening their skills though a mix of exciting academic and non-academic modules which provides a basis for a strong foundation to succeed in college and beyond.
The curriculum is inter-disciplinary, delivered in a framework that embraces the spirit of liberal education at FLAME University. A spirit that places special emphasis on critical thinking, research, engagement with diverse ideas and perspectives, while inculcating the values of leadership, teamwork and effective communication.
The academic modules have been designed to be contemporary and relevant, with content and delivery that goes beyond what is covered in a traditional high-school classroom. Special focus will be placed on honing of team work and leadership skills. Young students have the opportunity to experience residential life in the University with access to all its facilities that makes FLAME unique.
Who can Apply?
Applicants have to be Xth, XIth or XIIth grade high school students. They can be residents of any country. Copy of grade sheets of the previous 2 years will be required.
(Source: http://scholasticworld.blogspot.com/2021/04/summer-immersion-program-fusip-flame.html)